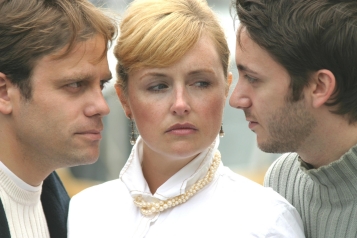 MEET THE REAL ERNEST SHACKLETON
A COMEDY ABOUT ANTARCTICA
The story that makes Survivor look like a picnic.
Twenty-seven men stranded for two years in Antarctica.
Experience the adventure — and the comedy.
"Great!" NYC Indymedia
"I love the songs!" The New Yorker (Liesl Schillinger)
"The best show of the season!" New York Weekly
"Hilarious!" WOR Radio

Sande Shurin Theatre
311 West 43rd Street (between Eighth and Ninth Ave.)
New York, NY 10036 · (212) 262-6848
Smarttix Box office: (212) 868-4444
Show me a map!
When buying tickets online or by phone, use code "ICE" to save $2 and pay no service charge (your ticket price will be only $13).

September 9th through 26th, 2004
Thursdays, Fridays, Saturdays at 8:00 p.m.
Sundays at 3:00 p.m.

Celebrating the centennial of Ernest Shackleton's marriage to Emily Dorman, a marriage that incited his monumental obsession with crossing the Antarctic continent, a group of New York actors, choreographer Ron Schwinn, and recording artist Terry Radigan have produced a tribute to the man and his mission — a retelling of the Shackleton saga in the new musical Meet the Real Ernest Shackleton — A Comedy about Antarctica. The story focuses on his desire to impress his wife and the resulting heroic miscalculation that led him to sail his ship, the Endurance, into the Antarctic Sea where it became stuck in the ice and eventually sank, stranding Shackleton and his crew for two years.

Shackleton made history when he accomplished the impossible by bringing all his men home safely after a two-year life-and-death struggle. Meet the Real Ernest Shackleton — A Comedy about Antarctica is the first comedy about his expedition. Written and directed by Michael Christian (author of The Art of Kissing), the story is a romantic comedy that asks an obvious question, How does it feel to get stuck in Antarctica for two years with twenty-seven men, one of whom you suspect is in love with your wife?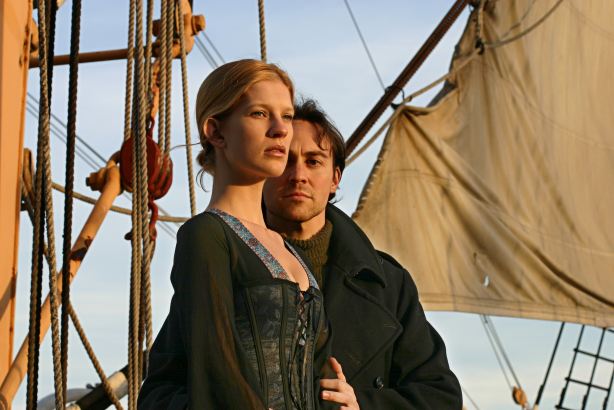 TOP PICTURE - Shackleton (Arol Jahns) glances across his wife, Emily, (Kristen Vermilyea) at his rival Tom Crean (Keith Chandler) in the new romantic comedy based on the life of explorer Ernest Shackleton. SECOND PICTURE - Allison Tigard tries to resist the very distracting Tom Crean (Joe Whelski). Photos: Michael Christian.
Click here for more info about the Show.
A Special Note to Shackleton Fans from the Director:
This musical features costumes accurate to the stitch that are replicas of the
gear used by the legendary explorer.
The production will also feature the first Off-Off Broadway harpoon duel and
a spectacular sinking of the Endurance at the conclusion of Act I.
Actors have received special training in portraying Antarctic conditions.
Since the only musical instrument Shackleton had on the expedition was a
banjo, composer Terry Radigan will play stringed instruments, including banjo.
The play contains mature and frank depictions of certain adult situations.
Parental discretion advised.
If you like Shackleton and exploring . . .
If you like fashion and comedy . . .
You'll love this musical!
1. "You have insulted me for the last time."
2. "Good God, the last entry is a love note to Emily!"
3. "What does that mean? A ship frozen in the ice."
4. "Emily, where are you?"
5. "You do love me after all!"
6. Shackleton jumps rope.
7. "I became a lesbian."
8. "It's a contract enlisting him on my new Antarctic expedition."
The above eight images are from the June 2003 staged reading, not from the lavish new production opening September 9, 2004 at the Sande Shurin Theatre where you'll actually be immersed in a nautical and Antarctic environment as you experience the harsh world that Ernest Shackleton ventured into with his band of brave souls who challenged destiny and Death in search of the ultimate adventure. Be there with us starting September 9th for the Off-Off Broadway event of the season. Don't miss this show!

CAST (September 2004 Production)
Arol Jahns - Sir Ernest Shackleton
Kristen Vermilyea - Emily Shackleton
John Squire * - Captain Worsley
Keith Chandler - Tom Crean
Daniel Koenig - Mr. Orde-lees
John Calvanico - Mr. Hussey
* Actor's Equity Association
CREW
Michael Christian (Director and Producer)
Arol Jahns (Co-Producer and Set Designer)
Stephen Riscia (Assistant Director)
Ron Schwinn (Choreographer)
John Squire (Set Designer)
Dan Zisson (Fight Director)
Megan Hafner (Lighting Designer)
Lauren Walker (Assistant Stage Manager)
Nick Houy (Assistant Stage Manager)
Dexter Taylor (Sound Effects Designer)
Sami Metwasi (Stagehand)
Brooke MacCauley (Costume Designer)
Kristin Germany (Assistant Stage Manager))

Press Contact:

MICHAEL CHRISTIAN (Director)
20 RIVER COURT SUITE 2005
JERSEY CITY NJ 07310
(201) 656-7956
e-mail: mike@kissing.com
Note: General Films is also producing The Train, a Kafkaesque play about a man who gets on the wrong train.